The right are in hysterics over some women being promoted. But the real picture is very different to the one 10 Downing Street are trying to present.
'Massacre' is not a word that should be used lightly. But when you're a tabloid, decorum and sense aren't really qualities which matter. 
The front page of the Daily Mail today screams 'Massacre of Middle-Aged Men'.
Certainly the image the PM's office is trying to give off is one of diversity and representation.
But what are the facts? 
Just five of Theresa May's 22 Cabinet ministers are women, the same number as before the reshuffle. Men still account for almost 70% of ministers
May's new Cabinet contains only one ethnic minority minister, and just one who is openly LGBT
According to the Sutton Trust, 34% of Theresa May's new cabinet were privately educated – an increase from her first cabinet in 2016 (30%) – while 24% of the new cabinet attended selective state schools
Meanwhile the proportion of middle-aged people barely changed: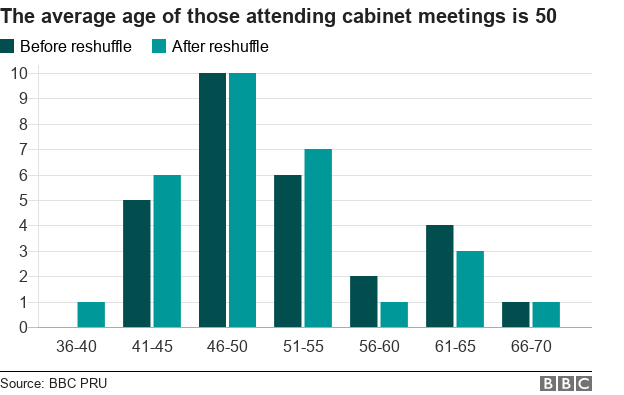 As the New Statesman's Media Mole writes:
The number of women has only risen by nine – there are still more than double the number of men (82, down from 89) than women (38, up from 29)…

The average age of ministers has only decreased by a year (51, down from 52).
Meanwhile, the key figures controlling back-benchers are…you guessed it:
Kelly Tolhurst
Mims Davies
Amanda Milling
Jo Churchill
Wendy Morton
Nusrat Ghani
all appointed to Govt whips office.
But all the women are junior whips. Top four senior whips posts are filled by men (Smith, Pincher, Harris, Spencer)

— Paul Waugh (@paulwaugh) January 9, 2018
The insecure responses from Mail readers have been hilarious to read:
'Massacre of Middle-Aged Men' screams the Daily Mail.

'White men are an oppressed minority' sob their readers. pic.twitter.com/fqhGEzq54H

— The DM Reporter (@DMReporter) January 10, 2018
Those poor white men, still dominating the corridors of power…
Josiah Mortimer is Editor of Left Foot Forward. Follow him on Twitter.
As you're here, we have something to ask you. What we do here to deliver real news is more important than ever. But there's a problem: we need readers like you to chip in to help us survive. We deliver progressive, independent media, that challenges the right's hateful rhetoric. Together we can find the stories that get lost.
We're not bankrolled by billionaire donors, but rely on readers chipping in whatever they can afford to protect our independence. What we do isn't free, and we run on a shoestring. Can you help by chipping in as little as £1 a week to help us survive? Whatever you can donate, we're so grateful - and we will ensure your money goes as far as possible to deliver hard-hitting news.