Amid Tory-leaning voter jitters, Reform UK, the rebranded Brexit party, is enjoying a rise in popularity.
"Having voted Tory till 2016, I now don't know whether it's better for me to vote Liberal Democrat or Labour to get the Conservatives out," wrote one 'politically homeless' Times' reader.
For anyone who spends their time fantasising about the death of the Conservative government in 2024, the future looks promising.
A marginal defeat rather than a catastrophic one is about as good as the ruling party can hope for. Ministers are even admitting to a looming rout. Senior Conservative MPs have privately confessed they have already lost the 2024 General Election. One cabinet minister said that a Tory defeat is fast becoming a "self-fulfilling prophecy." Others have commented that the current government is "managing decline."
Suggestions have even been made that the crushing of freedoms, including the right to stop protests and the anti-union bill being rushed through parliament by the current government, is because they know they are on borrowed time.
"Knowing that their days in office are numbered, the Conservatives seem to be snuffing out democracy as quickly as they can," writes Guardian columnist George Monbiot.
Without a penny of the £350m a week that Johnson had said our departure from the EU would release going to our beleaguered health service, Brexit wasn't supposed to be like this. Brexit failings are haunting the Tories, and none more so than immigration.
'Stop the boats'
Migrant crossings of the English Channel continue to reach all-time highs. Despite pledging, not once but twice, to 'stop the boats' in his first big speech of the year, public confidence that Rishi Sunak can solve the so-called migrant 'crisis' in the Channel is low. A recent People Polling survey for GB News found that voters have little confidence that the PM can actually do it. Asked how confident they are that the government can solve the crisis, 57 percent said they were not confident at all. Only 4 percent said they are "completely" or "fairly" confident. Among Tory voters, 52 percent said they were not confident at all, whereas the number is 72 percent among Labour voters.
"Unless Rishi Sunak can change these numbers it really will be game over at the next general election," said politics expert professor Matt Goodwin.
"Make no mistake. It's now make or break on immigration," he added.
Part of Sunak's five-point plan to deal with illegal immigration and the growing backlog of asylum applications, is to introduce legal reforms that will include "legislation to make it unambiguously clear that if you enter the UK illegally you should not be able to remain here" and will be "detained and returned to your home country or another safe country" as soon as possible. Additionally, the PM plans to restart the controversial flights to Rwanda once action has been played out in the courts.
Sounds pretty right-wing and hostile towards people risking their lives to flee poverty and persecution to me, and clearly an attempt by Sunak to speak to and placate the Tory right. But for some, it doesn't go far enough.
Sunak's proposal might look passable on paper but it's part of the same old plan to make migration across the Channel in small boats illegal. What the populist right really want to see is the number of journeys stopped – and the pledge to detain and send illegal migrants packing as soon as possible, is insufficiently draconian. More red meat required. Speaking of which, enter the home secretary Suella Braverman. The Brexit 'ultra' has declared that ending the crossing is her number one priority and failure to do so would lead to the Tories losing the next general election.
Control of our borders means 'control of our laws'
Doubt has also been cast over whether it would be possible to impose a ban on settlement in the UK by asylum seekers who reach the UK from outside agreed routes. For Sunak's hard-line critics on the right, taking back control of our borders requires taking back control of our laws. And that means leaving the European Court of Human Rights (ECHR).
"I don't think it's possible unless you leave the EHRC and it does nothing for processing times which is the real problem," one backbencher told iNews.
Braverman has also called on the UK to leave the ECHR. "I was pretty blunt about this issue in my leadership campaign. My position personally is that ultimately we do need to leave the European Convention on Human Rights," she told the Spectator.
Arch Brexiteer Sir Edward Leigh asked Sunak to promise that the government would 'derogate' from ECHR, if lawyers continue to 'trump' new legislation through appeals to the court.
Immigration was a leading factor that secured a Brexit vote and the Tories' failure to limit numbers and thereby deliver Brexit promises is jarring for many ministers, and voters.
"The Brexit vote was primarily an immigration vote and we have failed to deliver on immigration," one former Conservative minister told the Financial Times. "I am hearing from constituents who say because of this issue they will never be voting for us again."
Another senior Tory commented: "Brexit was all about controlling our borders and the small boats crisis reinforces this sense of things spiralling out of control."
The rise of Reform
Amid Tory-leaning voter jitters, Reform UK, the rebranded Brexit party led by the long-running Brexit campaigner and multi-millionaire property developer and financier Richard Tice, is enjoying a rise in popularity.
The latest YouGov/Times voting intention poll, and the first of 2023, shows the Conservatives on 25 percent of the vote to Labour's 46 percent. The Lib Dems have 9 percent of the vote, and the Greens have 6 percent. Reform UK, meanwhile, have 7 percent, down 1 percent from the previous YouGov survey in late December.
As an electoral drubbing beckons, Conservative circles are becoming more and more uneasy about Reform taking a significant slice of the party deserters.
One senior Tory MP put it bluntly:
"Reform could absolutely kill us in the polls."
Aiming to exploit issues that are grating on many a Conservative voter, such as tax rises and NHS waiting lists, the right-wing populist party poses as a substantial political threat.
But the part of Tice's platform that is especially attractive to Reform voters is the party's position on immigration.
In its 'Outline of Reform UK's policies to Make Britain Great,' the party pledges to Reform Border Control & Immigration. Part of its policy is to "adopt the tactics used by Australia when they stopped the boats."
"We must declare a national security threat, leave the European Convention on Human Rights (ECHR), and use existing legislation robustly to stop this illegal trade. We must also use offshore processing centres as Australia did.
"We must also create a new Department of Immigration staffed with people who believe in the task at hand, to protect our borders. The Home Office is simply not fit for purpose."
Rebranded as Reform by Farage in January 2021 as an anti-lockdown party, its leader Richard Tice describes its policies as 'common sense.'
In December, Tice said the party had 600 candidates and had gained 7,500 new members since Liz Truss stepped down as prime minister, and that right of centre voters have become more receptive to his "traditional conservative" message.
Unlike during the lead-up to the 2019 general election, when Nigel Farage as the Brexit party leader, did a truce with the Tories not to go after seats in the constituencies won by the Conservatives in the 2017 general election on the provision that Boris Johnson would adhere to promises on Brexit, this time round, there will be no such agreement.
'Industrial heartlands'
Instead, Reform has its sights set on what Tice refers to as "industrial heartlands," namely in the Midlands, the north of England, and pro-Brexit coastal communities in the east and west of England.
"We have made it very clear that we have got around 630 candidates standing everywhere except Northern Ireland and we are not doing a deal with anyone," Tice told FT, adding:
"We stood aside for [the Conservatives] and did the right thing in 2019, they had their chance, we gave them a big majority, they have blown it, they have messed up."
Defection from the Tories to Reform is happening at a local level. In December, a former councillor and area chairman for South Yorkshire, swapped from the Conservatives to Reform. He claimed his old party was "was not in tune with the working people" and was "unable or unwilling to make big decisions."
Who funds Reform?
When it comes to funding, Reform UK isn't short of mega rich contributors, and has the support of several multimillionaire former Tory donors. As of August 2021, Christopher Harborne, a British businessman based in Thailand, had given £10 million to Reform UK since 2019. Jeremy Hosking, a hedge fund manager, and a shareholder in Crystal Palace FC, had donated £1.6 million to the party by the summer of 2021. In 2020, the party received £2 million in private donations, equating to ten times more than the SNP, the third largest party at Westminster.
A Nigel Farage comeback?
Hefty donations to the party though are probably not as worrying to the Tories as the threat of a Farage comeback. Sunak's woes would be significantly worsened if Nigel Farage decided to step back into the party he founded.
Speculation that the former Brexit Party leader, who remains president of Reform, could make a political comeback, was sparked when reports about the government favouring a Swiss-style, close relationship with the EU surfaced late last year. The reports led to Farage warning that the Tories would be 'obliterated' if such a deal went ahead.
Farage has refused to rule out standing for parliament. He told the Times he was actively involved with finding candidates and raising money. So-called 'Red Wall' seats being stolen from the Tories would become more feasible if Farage made a comeback. The former UKIP leader said the seats in the north and the Midlands were "Brexit seats" and "a huge number of those voted for Boris in 2019 because effectively he picked up the mantle of where we were."
Adding that "optimism was that Brexit was the beginning of a whole new politics", Farage said but "actually, we've gone back to Oxbridge and the chums' club."
However, some argue that Reform UK's rising popularity in the polls is merely symptomatic of trends at this stage of the electoral cycle. Stephen Bush, columnist and associate editor at the FT notes a consistent problem for pollsters is the over-sampling of highly engaged voters. Reform performs worse in actual elections compared to how the polls suggest because pollsters have too many Tory voters who have heard of Reform and are backing it and not enough less-engaged voters who are simply switching to Labour or the Lib Dems.
Anthony Wells, director of YouGov's political and social opinion polling, believes that without Farage, Reform doesn't get as much traction as it would, and supporters are merely protest votes from frustrated Tory leaning voters.
"It is less to do with what Reform is doing to attract voters and more to do with what the Tories are doing to push voters away," he said.
Nonetheless, even without Farage, the headlines in the pro-Brexit right-wing press are ringing loud and clear, that unless Sunak manages to 'stop the boats' and control the migrant crisis, the 'Tories are set for political 'wipeout.'
And unless Sunak takes drastic action on immigration, and fast, such headlines are unlikely to subside as we edge closer to the election. If anything, they'll increase in venom and intensity. As we saw with the 'get Brexit done' mantra peddled by the Tory press that helped hand Boris Johnson the keys to No 10 in 2019, the media plays a direct role in shaping election results.
If the right-wing press choses Reform, it will almost inevitably have a profound impact on public opinion and could well mean demolition time for the Tories.
Right-wing media watch – Right-wing press in a tizzy about cancelling of Jeremy Clarkson
I guess, if you're willing to publish a column in which the author salivates about excrement being thrown at a naked young woman, you're not going to think twice about publishing op-eds that offer some kind of defence to the comments and call for the author of the hatred not to be sacked.
In yet more twists in the infamous and now-deleted Sun column saga, Clarkson apologised this week – properly – on Instagram. Following the apology, it emerged that the controversial presenter had been dropped by Amazon Prime. What followed, was a right-wing meltdown and appeals for Clarkson not to be 'cancelled' and to remain presenting on TV.
'Don't cancel Jeremy Clarkson', Spiked editor Tom Slater wrote for Spectator. The piece attempts to blame Meghan Markle for the hysteria surrounding her in the British media, and for getting notable TV figures the boot.
"Meghan Markle appears to be on a mission to prove that cancel culture really does exist. It seems that no one is too big to be sacked for criticising her."
Clarkson, according to Slater, was "perhaps the easiest target" to "bear the brunt of Marklemania" and was "almost asking for it."
But in the next line, the author attempts to defend Clarkson's nefarious column, by informing readers that "he was joking."
There are a number of problems in defining the column as a joke. Of course, Clarkson would not literally want to see Markle paraded naked down the street with the public throwing excrement at her and shouting 'shame.' We know that much. And we also know, the diatribe was typical of the boorish, uncouth image Clarkson likes to present in his insatiable pursuit for attention, negative or otherwise. But there's a time and place for using exaggeration and hyperbole for comic effect, and a national newspaper read by 30.6 million people a month across print and digital, isn't one of them.
This becomes especially problematic when it involves a racist element. Printing the column amid ongoing controversy over press hostility towards Meghan Markle and other prominent black public figures, couldn't have fed into the idea that British media may have a racism problem more if it tried. Its publication shows how low the right-wing media is willing to go, even by the Sun's standards.
Meanwhile, the Daily Mail's Ross Clark approached the story with a different angle. He attempted to turn the backlash over the column into evidence of hypocrisy on the left. Clark's piece points to several ill-thought and unsavoury remarks made by well-known figures on the left. Granted, the listed comments were distasteful and offensive, but attempting to use them to detract from the repulsiveness of Clarkson's column and show apparent hypocrisy on the left, is sheer desperation.
As one DM reader commented: "The wrongs don't make a right."
Dan Wootton – surprise, surprise – went down a similar road in the Mail, twisting the story into an attack of the left. ITV's 'leftie' chief executive Carolyn McCall ended the Good Morning Britain career of Piers Morgan, writes Wootton, as some kind of testimony that Clarkson is about to get the boot as host of ITV's Who Wants to be a Millionaire.
Like most defenders of free speech, the 'uncancel Clarkson' columnists were quick to point out that they didn't agree with the content of the column but were rather defending the right to utter it. Now there's double standards for you.
Clarkson's vicious misogynistic fantasy was one thing, the Sun's publishing of it was another. The right-wing columnists' defence of Clarkson and meltdown over his 'cancelling' takes the whole sorry saga to another level and proves that when it comes objection towards hate speech, the right-wing media has learned nothing.
Woke bashing of the week – Sunak to appoint 'free speech' watchdog to vet 'left wing' bishops
Rishi Sunak, according to the Daily Mail, plans to appoint an "'anti-woke' tsar who will investigate universities that censure academics for their views."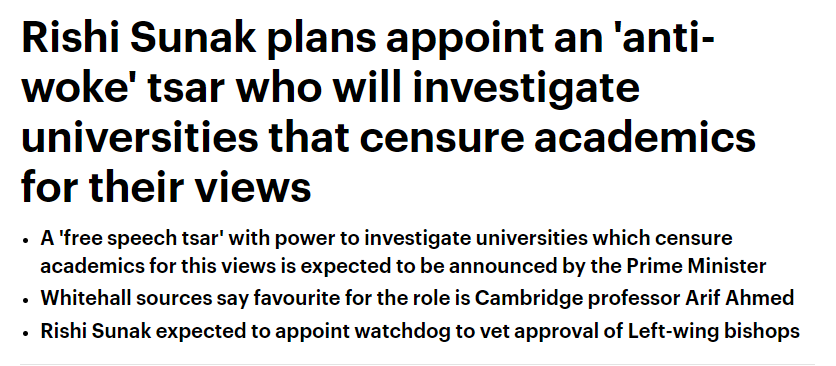 Declaring a new 'war on woke', Sunak is also expected to appoint a 'free speech' watchdog to closely vet and presumably veto the appointment of 'left-wing' bishops. Time for Tory bishops?
The article includes the usual anti-academic woke-bashing we've sadly come to expect from the Mail. Hidden within the subtext of the report, is the government's war against the Church of England (CofE) after bishops publicly denounced their Rwanda policy.
The Mail admits that the move to appoint a Cambridge professor – aka a 'free speech tsar' – who has spoken out against the 'cancel culture on campuses,' comes as Sunak is understood to have instructed officials to perform 'more due diligence' on bishops prior to being appointed, "following their outspoken criticism of government policy."
The piece informs us that No 10. has announced Philip North would become the next Bishop of Blackburn. This is despite complaints being made about North's opposition to women priests, something that has meant the bishop has been forced to withdraw from previous nominations. North withdrew his acceptance of the nomination to become the next Bishop of Sheffield in 2017 after he had said he had been the subject of 'highly individualised attacks' over his opposition to the ministry of women as bishops or priests. He had withdrawn from the Whitby nomination in 2012 for the same reason. Is this the kind of bishop the Tories want for the future?
There's no reason to believe that Philip North doesn't possess the pastoral, intellectual and administrative skills necessary in a bishop but the Mail's enthusiasm for his appointment seems caught up in his opposition to women priests. For the Mail, North's objections to the ministry of women as bishops or priests seems to validate the argument for placing an 'anti-woke tsar' to investigate universities that censure academics for their views. Presumably, having women priests is woke.
It's all a bit confusing but we do know that in 2022, all 25 bishops in the House of Lords sent a letter to the Times condemning the government's plan to send migrants to Rwanda. Describing the policy as "immoral" and shaming Britain, the bishops' comments infuriated many Tory ministers. Jonathan Gullis, Tory MP for Stoke-on-Trent North, said he doesn't think "unelected bishops in the House of Lords should be preaching about politics".
The Church having something to say about politics? Whatever next!
A veteran Tory MP accused the archbishop of Canterbury of "sharpening political divisions" for suggesting the government's Rwanda asylum policy would not stand up to the scrutiny of God. It all seems a long way from the days when the Church was described as the Tory party at prayer.
Well now it seems it's payback time.
The irony is, of course, that the whole point of appointing a 'free speech tsar' is to enable free speech, while the government, enraged by bishops speaking their minds about their 'immoral' Rwanda policy, plans to appoint a watchdog to vet approval of left-wing bishops, presumably to stop bishops speaking out against the government in the future by not getting them appointed in the first place.
So much for their commitment to 'freedom.'
Gabrielle Pickard-Whitehead is author of Right-Wing Watch
As you're here, we have something to ask you. What we do here to deliver real news is more important than ever. But there's a problem: we need readers like you to chip in to help us survive. We deliver progressive, independent media, that challenges the right's hateful rhetoric. Together we can find the stories that get lost.
We're not bankrolled by billionaire donors, but rely on readers chipping in whatever they can afford to protect our independence. What we do isn't free, and we run on a shoestring. Can you help by chipping in as little as £1 a week to help us survive? Whatever you can donate, we're so grateful - and we will ensure your money goes as far as possible to deliver hard-hitting news.